Whether you are a budding board game designer or you want to have a short run of playing cards or Tarot cards printed. This post has been put together to list some of the UK based playing card printers and manufacturers based in and around the British Isles.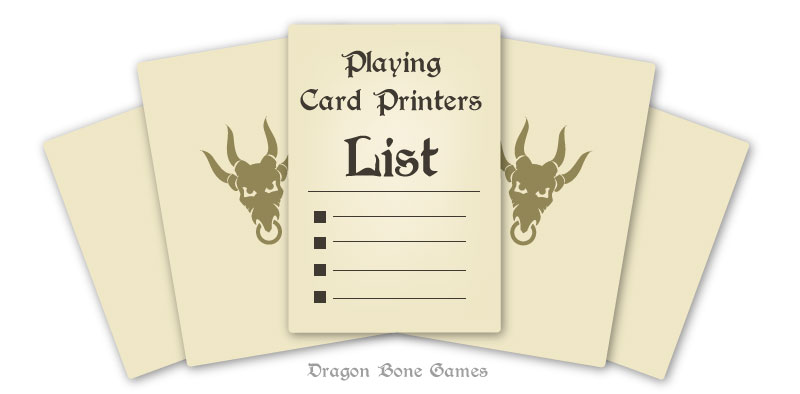 What card game printers are based in the UK? A list of UK based card game printers.

What card game printers are in the UK? ( The List )
In no particular order, UK based card printing companies and manufacturers.
Ivory Graphics | Card Printing Services
Ivory graphics offers a dedicated service in the creation of board games. This also covers playing card printing and creating the packaging, such as; tuck boxes and hard boxes too. If you are thinking of prototyping a card game their service may be worth considering.
Hartgraph – UK based card printing services
Hartgraph offers a sleek and high finish level or print that feels more in line with a traditional lithographic print service. They appear to offer an excellent standard of printing as based on samples received.
Pink Sheep | Promotional printing cards
Pink sheep is not a 'dedicated' card printing company but they do offer services for printing promotional cards. This also may be suitable for certain types of cards or for promotional or mock-up services.
Printerstudio.co.uk | Card Printing Services
Print Studio offers a card printing service from anything to personal playing cards to Tarot printing. Not so much a dedicated card and board game printing service but a service nonetheless that could be considered for prototype printing.
Hayman Creative
Haymen Creative has a range of prices and services ranging from game board printing to card game printing. Hayman Creative are professional and know their business when it comes to printing for the board games industry. This company is also based in Nottingham in the UK.
Gamesandprint.co.uk | Traditional card game printing service
Games and Print are another dedicated card printers based in the UK. Their marketing is dated but they offer a strong vibe of being a traditional printer that knows their paper! They are inclined more to print card games as opposed to full-board game production, judging by their website.
Playingcardspersonalised.co.uk
This is a UK card printing website ( part of spring bold ) that can print casino-quality playing cards and card boxes. They appear to offer good quality cards if you are intending to make a card game.
Aura Print
Aura print also offers a card printing service if you are looking to create a custom playing card set. Their prices are listed on their website.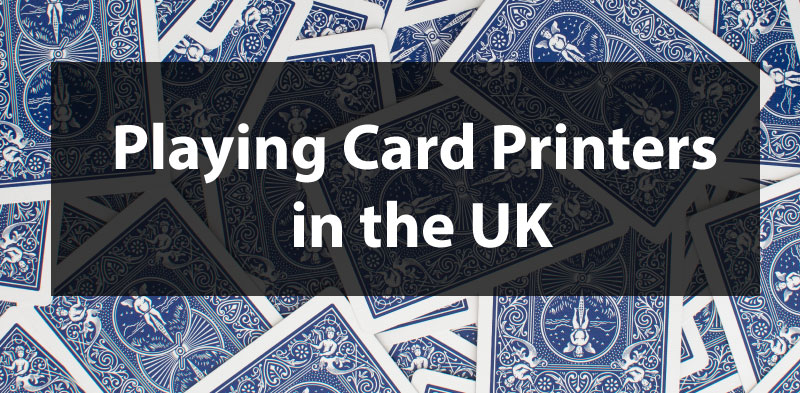 Summary list of playing card game printers UK
Ivory Graphics
Hartgraph
Pink Sheep
Printer Studio
Hayman Creative
Games & Print
Playing Cards Personalised
Aura Print
Which UK card printers can provide a mock-up service?
In addition to a list of card game printers in the UK, certain printers market themselves more toward helping you in creating a shop-ready card game. If you are considering creating a card game and you need a mock-up or a rough prototype the names listed below are perhaps some more viable options.
Which UK Card printers can provide a mock-up game?
Ivory Graphic
Hayman Creative
Both of the companies mentioned offer a service that allows you to create a mock-up for a board game, be it a card game or a large board game. If you are just looking for a more general playing card printing service the other companies mentioned prior may be able to fulfil your requirements.
What companies can print playing cards for personal or private projects? ( UK )
If you are looking for a smaller card printing service any of the companies mentioned in this list can offer a service for printing cards. Whether this be for a party night or if you want to create a fan-based game – eg HeroQuest inspired fan game. ( Which you would not be able to sell). The ones that offer shorter print-run services would perhaps be best suited for your needs.
You might want to create your own personalised cards for a friend, party night, or to offer as a gift. The names mentioned below may offer a slightly more suitable service but any that have been mentioned would be able to help.
Ivory Graphics
Hartgraph
Pink Sheep
Hayman Creative
Playing Cards Personalised
Aura Print
The takeaway of what card game printers are in the UK – there are a few to choose from…
There are a few to choose from in terms of finding the right paying card printing service for you. When deciding on the correct card game or playing card manufacturer service for you, you need to consider which one works best.
For example, is this a personal project, a mock-up for a game , a way to playtest, something for a stag do, a gift?
Any of the options listed can print playing cards for you.
Ivory Graphics and Hayman Creative are well suited to creating card games. If you were to scale from a mock up to full game to sell, they would perhaps be able to scale easier..
Some of the other companies appear to be suited to print packs of cards.
When selecting the ideal playing card printing company you need to select one that suits your requirements best.
Weigh up if the companies are specialised in printing game mock-ups with packaging or will just offer a POD ( print on demand )service. They will just print a deck of playing cards.
Which companies should you choose for printing your card game?
This is all conjecture and speculation as Dragon Bone Games is not associated with any of the companies professionally. For creating a full-scale playing card game with rules, it would be best to choose the companies that can offer this professional service. And not as 'bolt-on service'. If you want to make an authentic card game prototype with the potential to scale. Go to with the company that can deliver.
Based on industry knowledge and looking at the playing card companies, certain companies look better suited to certain situations.
These scenarios have been listed below.
UK playing card service for mock-ups and games?
Ivory graphics
Hayman Creative
Hartgraph
Playing card printers for personal projects
Playing cards personalised
Aura Print
Playing card print services for marketing
Pink sheep
Aura Print
Printer Studio
Playing card printing services for anything else
*Any of the cards mentioned above!
Card game manufacturers UK ( full scale )
For dedicated card game manufacturers in the UK the options mentioned below may be able to help. UK only!:-
Ivory Graphics
Hartgraph
Games & Print
What card game printers are in the UK?
As mentioned previously these playing card companies are not associated with Dragon Bone Games. Each website has been vetted to see what types of services they offer and their standard of work. Some of the printers have also been spoken to on either the phone or in person.
At the time of writing this post, all of the information and company names are accurate. All the best in finding one that suits your playing card printing needs.
Other useful articles based around card printing
External links
– Ivory graphics ( board game / card game maker )

* Dragon Bone Games – It should be noted at the time of writing this post these are the companies in the UK that offer playing card printing services.