This post covers the size and scale of the miniatures from the classic 1990's HeroQuest board game by Games Workshop and Milton Bradley.
What scale are Heroquest (or HeroQuest) miniatures? The scale of the miniatures varies from model to model but the average size of the miniatures is '30 mm' according to the Board Game Geek community and the couple of miniatures I can see.
But it should be noted that the heights vary from model to model.
For example, there is a height difference between the Goblin miniature with its short sword and squat legs to the muscular Barbarian with his board shoulders and the tip of his sword which points upward.
So in this instance, it's not only a case that you should consider the 'height' of the miniatures but also the proportions and scale.
If you are looking to create your own replacement miniatures or print your own designs, the sizing guide below may help with the size and scale. You can jump straight to the scales chart.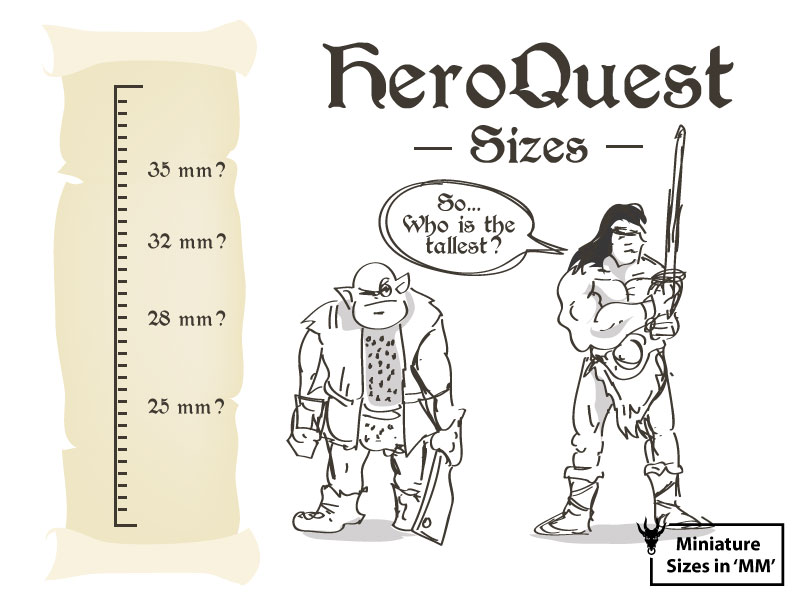 HeroQuest model height list

What is the 'average' height of a Hero Quest miniature?
30 mm – 28 mm depending on who you ask, but another thing to consider is the size of the base and the actual proportional scale of the models. If you are intending to on creating or buying your own models stick with the 28 mm / 30 for scale. You don't want your miniatures to look too big or too small when you place them on the tiles, on a board.
HeroQuest Miniature Size Chart / List
Many of the sizes are courtesy of BGG (source below) and various other forums. It should also be noted that for this Heroquest sizing chart that some of these models have also been seen first-hand but not all can be accounted for sadly.
Almost word for word here is some of the information. Full chart/list of heights from the top of the head, not counting spiles, arms weapons, etc the their feet. And not counting the 2mm thick bases.
Hero's Heights in 'mm'
Barbarian 32mm
Elf 32mm
Wizard 30mm
Dwarf 22mm
Monsters Height in 'mm'
Sorceror 32mm
Fimir 32mm
Daemon 35mm. 40mm if you count the point on the top of the head
Orc 22mm
Goblin 18mm
Chaos Warrior 32mm
Skeleton 32mm
Zombie 29mm
Mummy 35mm
*Remember to add 2mm with the base
Bases
All bases are 24 x 21mm.
Tiles and spaces are 22mm square

Heroquest Scale Image Template (free to use)
This rough Heroquest size template is completely free to use. The sizing template is useful if you are just getting started with creating your own cut out Heroquest pieces or you are wanting a rough guide to help you sculpt your own custom HQ miniatures! There is no catch, just take it!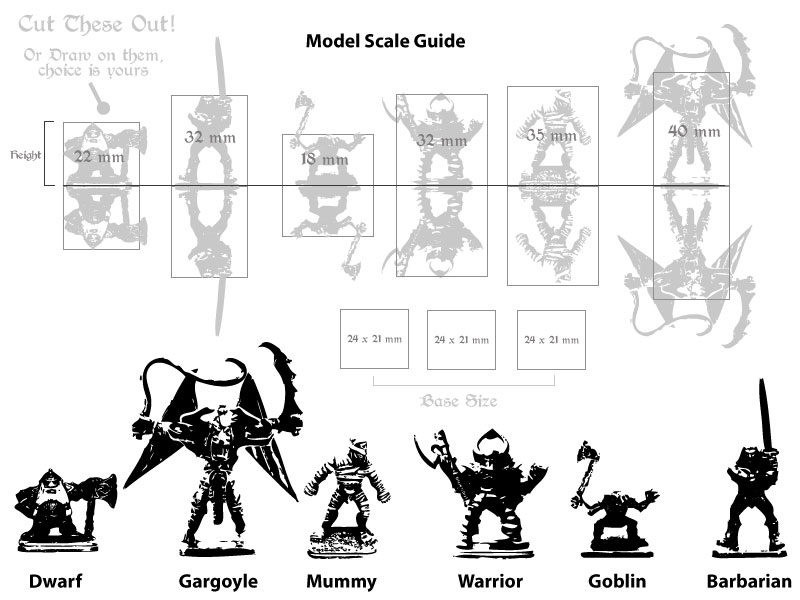 If you are looking for more options and ideas or other pre-drawn Heroquest card models you should consider looking at this thread although, it should be noted that it will take you away from this post. Many fans have taken the time to create their own designs and share them for free on BGK.
Also, here is a rough template for the game board tiles:- in 'mm'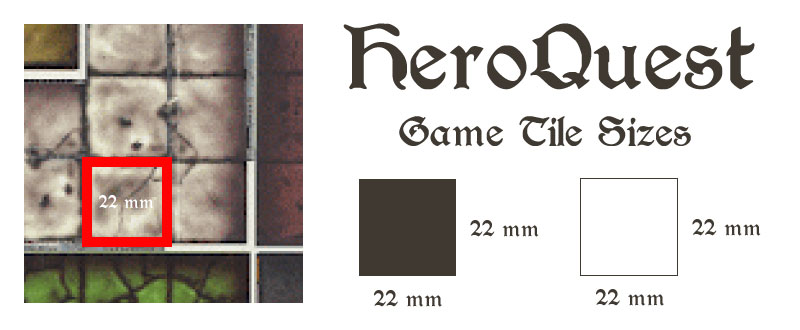 Summary for Heroquest Miniature Sizes (mm)
This post was created to help you guess and gauge what scale the 1990's Heroquest Board game miniatures are. Why, would you want to do this! Well, that is none of DBG business but we hope this post was helpful either way,

I hope it was helpful. And all the best with creating your own scale HQ mini's with the information supplied.
– What scale are HeroQuest miniatures mm
Helpful Links to pages on this website, related to HQ
– What is the value of the incomplete HeroQuest game?
– Heroquest Warrior (monster) (product listing)
Information on Heroquest Scales on other Websites
BGG – Heroquest Sizes and Scales (this will take you to a forum thread on another website)
BGG – Heroquest Model Substitutes (this will take you to a forum thread on another website)