This is how to make your own Heroquest game in easy to follow steps. As an overview answer, you will need to do the following things. Plan your quests for both the hero players and the sorcerer. Create your own characters or buy pre-existing models.
Design or illustrate the game cards and graphics and last but not least, create an epic quest board to play on!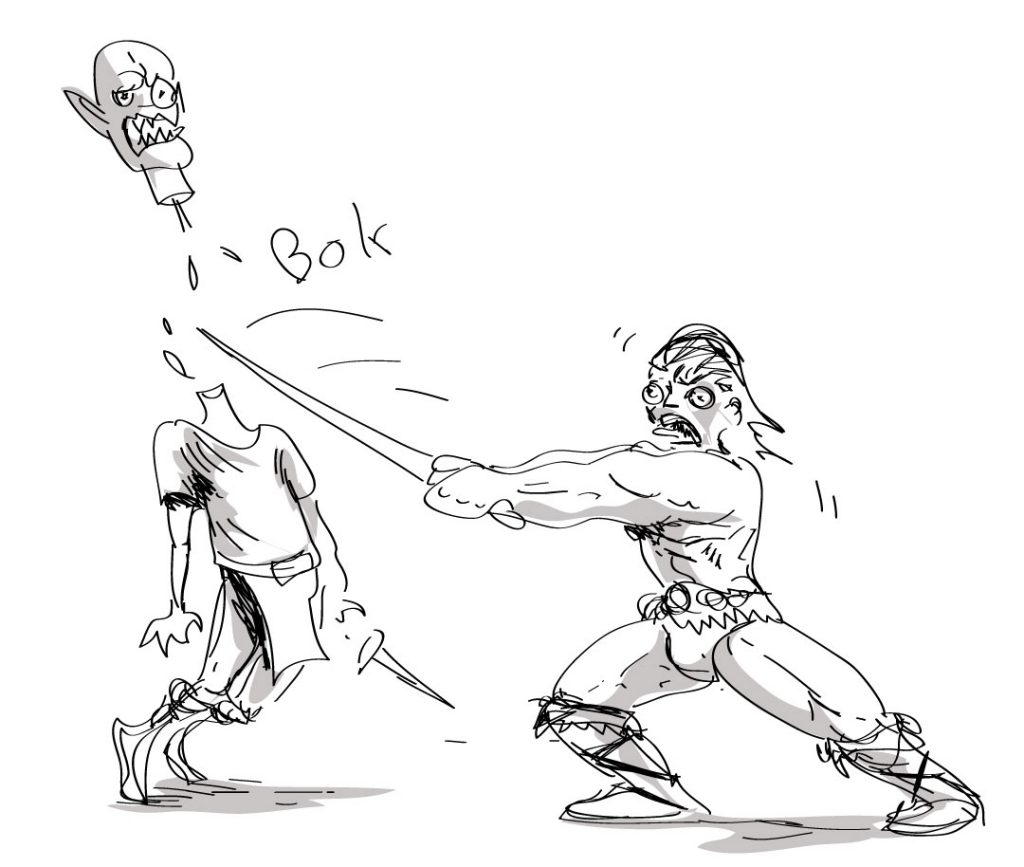 The answer above is a quick summary of what you may need to do, depending on to what level you wish to create your Hero Quest type game. Be it an expansion, replace parts of the original, or create your own rendition of the classic Hero Quest for friends and family.
You don't have to do all that is instructed in this post and you may pick and choose which is most applicable in your game making process.
It should also be noted here that HeroQuest is copyright GW and MB games. You cannot create the classic HeroQuest yourself like for like and sell it as your own. You would need a license for that!
Down to the business of creating your HeroQuest 'style' game for personal use or as part of a fan club.
Perhaps you are just looking at creating a few extra pieces or an entire HeroQuest type game? Or, you just want to put your stamp on your own HQ game and extend it's life and re-playability?
If either is the case or something in-between, then this post is for you.
Heroquest, as you will probably already know, was a classic dungeon crawler RPG style board game that was created in 1989 by Milton Bradley (MB) and Games Workshop. It is a game that is still desirable today with many fans awaiting its reprint or re-creation.
It was alleged that a HeroQuest 25th edition was to be created but this was not the official HeroQuest that was known and loved by many from the early '90s. In other words, no it was not a direct reprint, sadly.
If you are considering creating your own HeroQuest game, both the how to make your own Hero Quest parts and how to create a HeroQuest styled game are covered in the article in easy to follow steps and snippets.
Go forth, for the love of HeroQuest!


The steps on how to make your own HeroQuest type game
In order to make you own HeroQuest, even just for personal use, it is best to create a checklist/plan to keep you on track.
Writing a checklist or plan is more likely to help you to complete and adhere to your project guidelines. A tick list in other words.
Making a plan for your homemade HeroQuest game can be straight forward. Consider the following:-
How to make your own HeroQuest game checklist and plan
) Plan out your adventures and quests
) Create game pieces. You can either make your own game pieces or source existing ones
) Create the game artwork for the cards, tokens furniture, and other parts.
) Make the HeroQuest game board!
This is a simplification of the key stages you can undertake to create a HQ game and become the envy of your friends. It is good practice for board game design or any project for that matter to follow some sort of checklist, plan or guide to stop yourself from getting lost.
first step – project plan.
Write down your plan on a bit of paper or use a word processor or Excel. You can make a detailed itinerary of what needs to happen to complete your project. Especially if you are creating something worthy of an expansion pack or perhaps a full-scale redesign of the game.



Creating the HeroQuest "Quests" ( Core stage | design the missions )
When considering how to create your own Hero Quest 'quests', think about how both the hero player and the sorcerer (monster player) will take part. Keep the quest fair, fun and imaginative and then everybody will enjoy what you have created.
You want to avoid forming sore losers on board games night as much as possible. You want the other Hero Quest fans to keep playing your game!
In order to create a little story for your homemade HeroQuest you need to create a backdrop, a narrative that pulls you into an adventure and excites you and your friends!
You could create a quest that is part of a larger story, A quest that is small and stand alone or something in-between or from an altogether different realm!
Story and backdrop example.
A mighty Chaos Warrior drank an elixir that makes them all-powerful and more resistant to fire. A rare hidden treasure is needed to slay a nightly overlord. Or it could be a simple escape the dungeon type quest!
The storytelling is down to you! Make the adventure fun!
Create your map for your Quest
In the original HeroQuest books, there was a map that showed you how to layout the board for the quests (levels). Create your own map so that it corresponds to the story that you have written. Use some logic and sense in what you have created. If your story is about a chaos warrior, then have a chaos warrior in the game somewhere.
Below is a free example of a HeroQuest map for inspiration – remember this is for personal use only.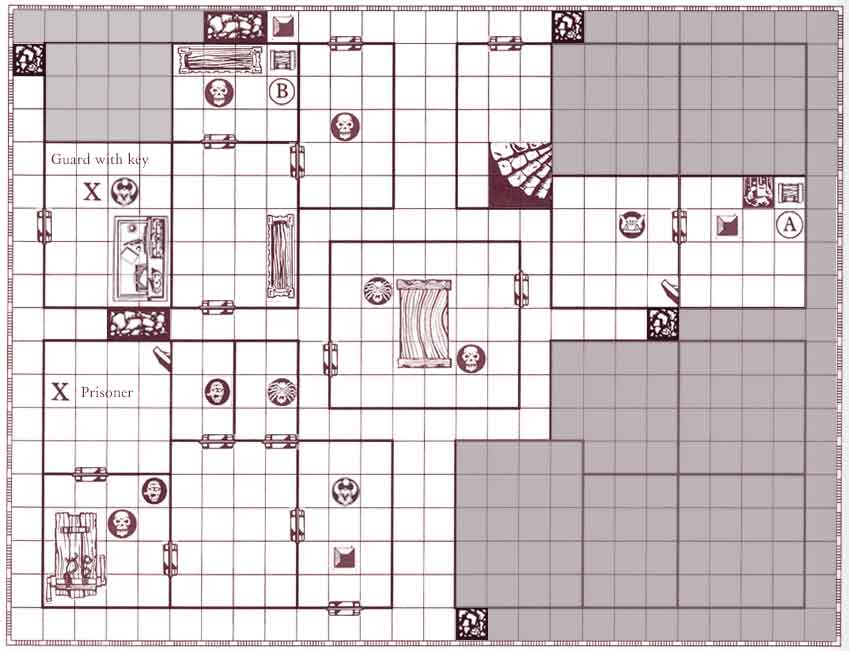 Create the quest rules and notes for the sorcerer and hero players
As with the original HeroQuest, the map and stories came with notes and rules for the players. This will give instructions to both of the players.
To summerise the steps on how to create you own HeroQuest type game or 'Quest'. Plan a story, create a map, and then create rules and notes to coincide with the story and map layout.
This is an example of a quest following the guide above.
Example of a quest – "Stone Cold"
In an ancient ruin of a castle, In the deepest darkest dungeon. A fellow adventurer is lost somewhere behind the cold walls and in dire need of your help. You must find a key to open the cell and escape this place with your friend. The rancid smell of decay lingers in the air and the zombies have infested the dungeon. The disease has taken hold of both the guards and prisoners. Do what you must to save your friend and escape.
Notes: A deadly contagion has infected both the prisoners and the guards. Avoid being bitten by Zombies and Chaos Warriors.
Get the key from the Prison Guard (hidden and marked with an 'X') and unlock the cell where your fellow adventurer is. The imprisoned player can move freely inside the cell and is visible from the start of play. They cannot leave through the locked door.
Note to sorcerer – there is a hidden door in the cell.
Zombies and Chaos Warriors get an additional attack dice, including the prison guard
Each player rolls 1 dice. The lowest number is the one to be locked in the cell.
You must defeat the guard (x), take the key, and free your friend and make it back to the stairs.
A ) Take an extra weapon from the pile
B ) You have found 200 gold coins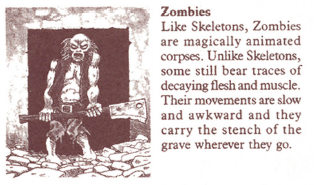 This is an example of a quest you can make. Feel free to copy and paste and edit as you see fit.

How to make (or get) the monsters and heroes | make your own heroquest game
For your homemade version HeroQuest, you may need (or want to) create your own characters. There are 3 different solutions in order to create your own characters and models for your game.
The first and easiest way is to source the original HeroQuest miniatures in market places such as eBay or FB.
Here is a dedicated HeroQuest Shop on eBay.

Should you decide to purchase any HeroQuest miniatures from eBay a commission may be paid to Dragon Bone Games at no additional cost to you. Thank you for your support.
The other methods to create your own HeroQuest styled miniatures is to either sculpt them yourself and have your miniatures 3D printed and have casts/moulds made of them.
Or you can create 2D 'slotta' versions of your miniatures.
Here are some pro's and cons and general information on creating your own miniatures, be it 2D or sculpting.

Sculpt your HeroQuest Miniatures and cast them | traditional
In order to make your own HeroQuest game, or at least a version of, you will need to create playable pieces if you wish to keep it closer to the original that was printed and manufactured in 1989.
In order to sculpt your own version of HeroQuest miniatures, you can use Green Stuff. Green Stuff, also known as 'Kneadite' is a 2 part material that is widely used by my miniature sculptors.
Models such as Burrows & Badgers are made from Kneadite.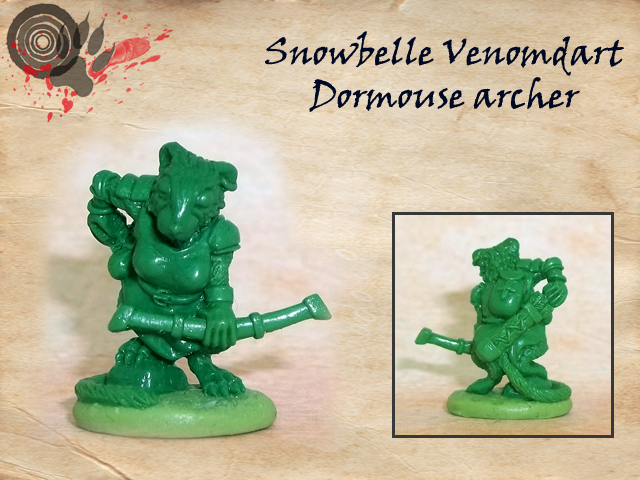 Should you decide to use Green Stuff, it can offer a more of an organic and traditional feel to your miniatures.
Miniature sculpting is a craft that requires skill and knowledge. Depending on your sculpting and artistic skill, you may wish to consider the help of a professional to get the results you hoped for.
If doing it yourself.
You can buy Green Stuff here on eBay and start sculpting as soon as it arrives! It's cheap and fun to use!
Another great thing with 'Green Stuff' is that you can also use it to make conversions. By taking another model or model bits and converting it and making it your own. Or 'kitbash' some models together and use Greenstuff also to make body parts.

3D sculpt HeroQuest styled/inspired miniature | 3D Sculpting
Another approach to creating miniatures for your own HeroQuest game is to create a 3 dimensional sculpt on a computer and have it 3D printed.
Working in 3D on a computer is an art form in itself and should not be taken lightly. Professional 3D artists can take 3 plus years to study their craft and master what they do.
So don't feel deflated if you can't just suddenly sculpt in 3D on a computer. It's not as easy as you'd hope.
In a link at the bottom of this post, it shows an example of 3D printed Hero Quest 'styled' miniatures and they are very good!
Which is better for your Hero Quest game project?
If this is a personal HeroQuest game project (private fan-made game) and you are looking to save money, then just sourcing the miniatures is arguably by far the cheapest and most straight forward.
Unless you are a good sculptor then you may end up with miniatures that are subpar for what you want.
If you have the budget or skill to sculpt? – make your own heroquest game
IF you have the money or can sculpt yourself why not consider using some traditional sculpting for your game? This will also be more authentic for the era in which the game was created.
Quick-fire answers and notes on creating 3D miniatures for your HQ game.

Creating 2D HeroQuest characters for your game
You can create 2D flat characters for your HeroQuest game, print them (or cut them out), and slot them into bases. This method is cheaper and you can make it yourself and even print it from a home printer.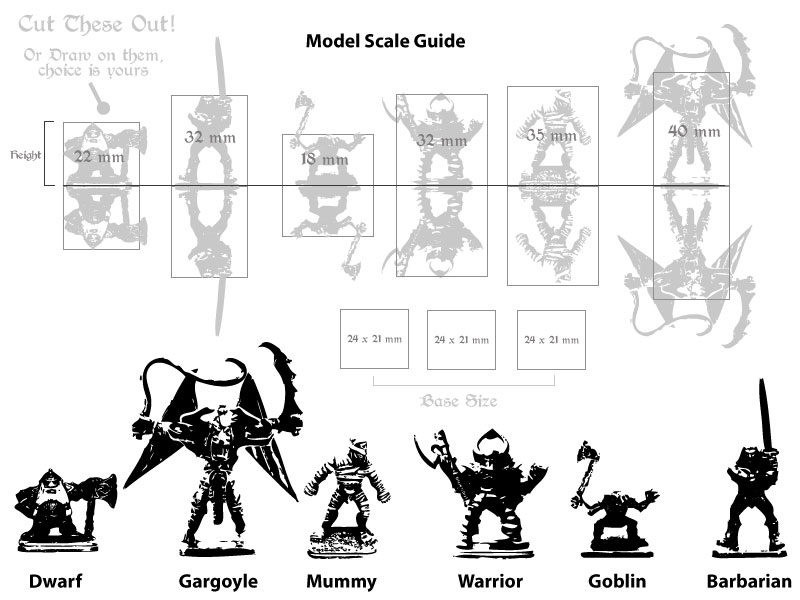 You can also purchase these clear slotter bases from eBay by following this link. DBG is part of the affiliate scheme on eBay.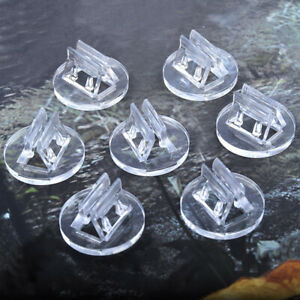 If you want to make your version of Hero Quest look a bit more slick and professional, you can consider hiring a game artist and illustrator. NEXT PART!

In order to make your own heroquest game, this set of simplified resources and links will help you in the creation of your own characters.
The dimensions in 'mm' for creating the miniatures or the sizes of the bases have been logged in the pages below.

How to create your own HeroQuest artwork
In order to make your own heroquest game to it's fullest! You should also consider the artwork if you wish to stay true to the original.
To create the HeroQuest artwork, you can either download samples and templates (listed below) or you can be creative and create your own from scratch.
Creating the HeroQuest artwork can be fun and exciting, and you don't have to leave it all to guesswork as to what artwork you need to create. Follow this HeroQuest contents list to help you.
How to make your own heroquest game | creating the artwork
To create the artwork, make sure to check the Hero Quest contents list so you know what you need. You can either draw your own artwork in a computer graphics package such as Gimp, or Photoshop or you can print the templates from a home printer and render the 'blank' artwork yourself.
In other words, draw straight onto your print out!
To get the HeroQuest graphics templates you will need to download them.
This website, the Yeoldinn, has many of the samples from the original HeroQuest game for you to work with and it is a brilliant resource to create a fan-made Hero Quest.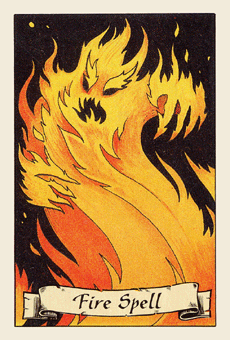 You may also find these articles helpful for the fan-made artwork: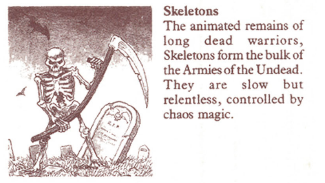 How to make your own Hero Quest game | creating the legendary board art!
The original HeroQuest came with some iconic board game (playing board) art that pulled the players deeper in the HeroQuest world. Nobody could blame you for wanting to make a fan-based Hero Quest with such awesome art to inspire you, it was incredible from the outer box to the in-game furniture.
To create your game board to a polished and professional standard or make something a bit more homemade, there are 2 main ways of going about creating the HQ game board that you can play on.
1 way is to find a similar size board from an old or broken game and re-cover it with a large format print that you have created. Be it a digital or traditional artwork used to cover it. This may be a cheaper way of going about it.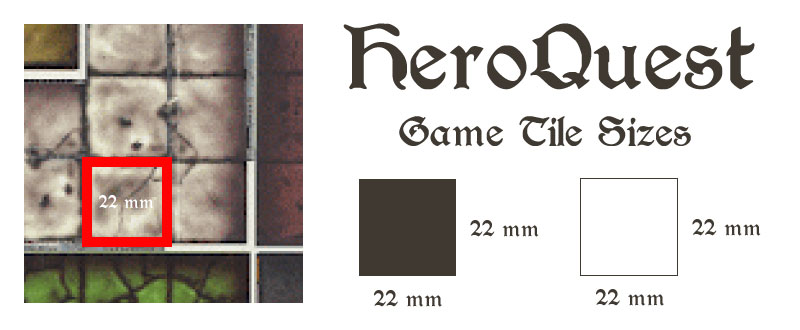 Second main way to get a new custom board is by looking into board game prototyping services that can help with 'one-off' print.
Not all game prototypers or publishers will offer this as a service.
The reason I say "One-off"
To create your own professional Hero Quest board for private use can be very expensive. Spending money for a full-scale production service isn't needed as you do not need to own 100 copies of a HeroQuest board for private use.
So look for single board printing services.
There are a couple in the UK and Europe, depending on where you are reading this from.
For prototyping services or creating one off game boards for your private collection here are two potential places that can help.
Re-covering another game board for your fan-made HeroQuest
Re-skinning or resurfacing another tired old game board from a charity shop or attic is one way of creating a homemade board to play on – and why not show old some new love!
It is cheaper to recover an old board to create your own HeroQuest than to look at commercial printing methods.
In order to resurface an old board game board, either use or print on an A2 sheet of paper and mount it the pulp of the old board. You use sticky spray adhesive such as spray mount to achieve this.

About commercial game board printing services for your HeroQuest game
The other method in which you pay for commercial printing and manufacturing of the game board is both slick and professional, but it is also expensive.
Taking the commercial prototype printing route for a fan-made edition of the game may be excessive but may offer the best results.
Depending on what you have to spend and to what level of polish to want to aspire to this another way to create a Hero Quest gaming board to play.
Final 'alternative' way for creating your own board!
Use a roll matt instead of a board | Bonus
Another way to create a HeroQuest style game 'board' is by looking at roll matt solutions instead of printing onto the board. AKA, a game matt. These can be rolled up and stored how you see fit and look pretty cool too.


how to make your own fan-made Hero Quest game | final answer and conclusion
You will need to create the game art, the game board you will play on, the monsters/character, and all of the visual design for the game – if you are wanting to make a complete and full fan-made version of HeroQuest there are even more small steps to consider.
Such as the: Character cards, spells, furniture, monsters cards, treasure, and whether or not you want a box.
In order to make your own Hero Quest, it is best to download some of the graphics templates as suggested for the YeoldeInn
Much of what has been written in this post also covers a few basic steps to design your own board game from scratch. Enough to help you in creating a Hero Quest type game and become part of the fan club!
*Unless you have written permission from MB games or GW to create an official HeroQuest game it is unlikely they will allow you to publish your creation if you intend to use their story, quest or miniatures or anything that is copyrighted under "Hero Quest" or HeroQuest*
But, if you are just wanting to stick with something a little bit homemade as you are a fan of HeroQuest, this should be fine for private use.
All the best in designing your own quests!
You may also find some of the following information helpful for creating your game.
HeroQuest Fan Game creation resources to create your own 'heroquest' game
External websites for board game creation
– Hero Quest style miniatures (not affiliated)
Thank you for reading. Hopefully, this will help in bringing your own versions of Hero Quest to life!
How to make your own heroquest game, be it fan-based or just because you want a project to work on will be rewarding and stuff or legend.
All HeroQuest (Hero Quest) miniatures, models, characters, monsters, game artwork, design, packaging cards, and all other unlisted content around Hero Quest are copyrighted and owned by their respective creators and companies.
A humble bow to the creators of HeroQuest | build your own – BYO.