This post offers a helpful list of what board game distributors are in the UK, focusing predominantly on business to business distribution and wholesale companies to help your board game business move toward retailed and scaling. (presumably)
There are approximately 10 prominent board game distribution companies listed in the UK. There are likely more, but these would be easier to find at trade shows and gaming events.
This post features a helpful list of UK board game distributors that focuses on business to business and wholesale.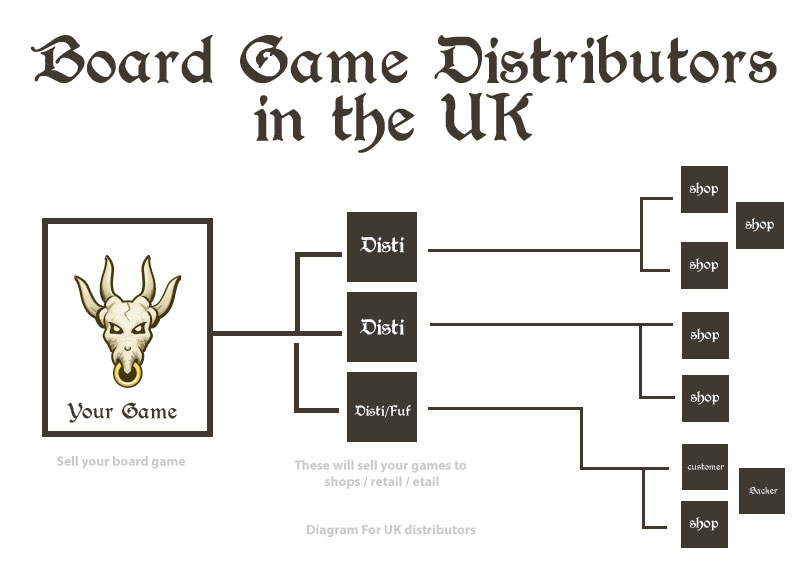 Fulfilment companies have also been added to the bottom of the page that covers "distribution".
If you require any of the companies to handle your UK distribution and product logistics you will need to get in contact with them directly.
Finding UK based board game distribution companies can be tricky! But here we are. Happy distribution hunting intrepid game designer!
Board game distributors based in the UK
Asmodee (Asmodee UK)
Asmodee UK is a large board game distribution company based in the UK. They are friendly and professional. I have met Asmodee on numerous occasions at tabletop gaming shows around the UK, and worked alongside them commercially through previous employment.
Asmodee UK has an extensive catalogue and deep market penetration. If you would like to sell your game in bricks and mortar retail then Asmodee is a good distribution company to approach.

Esdevium Games
Esdevium Games is Asmodee, they rebranded in 2017. See Asmodee for details. They were a friendly team to work with.

Coiled Spring Games
Coiled Spring games are based up in Hampton Hill in the UK. They sell a range of puzzles, party and board games with a large proportion of their game ranges for family entertainment.

Spiral Galaxy Games
This company is a board game distribution company based in Telford in the UK. They have a large stock of items to sell and deal with smaller independent publishers.

NDA Toys
NDA toys are a distributor based in the UK and their website shows prices for a variety of board games. The website also shows RRP and 'pack' pricing. Many of their game ranges are classic family board games.
Kingsley Distribution
Kingsley Distribution focuses on the distribution of wargame/wargaming type board games and products. If your game has miniatures or is part of the science fiction/fantasy genre, then this company is a possible match.
They work with various sized companies. Their contact details are at the top of the website.
Kingsley Distribution are based in Cornwall, in the UK.
Dracco ( Bliss Distribution )
Dracco or Bliss Distribution sell a wide variety of products from Dungeons & Dragons to Magic The Gathering. Many of the games and products are focused on card games.

UK board game distribution and fulfilment companies
To further cover what board game distributors there are in the UK. You may wish to take note of the fulfilment companies listed below. Fulfilment companies can send your games directly to consumers and customers on your behalf.
Games Quest (ship Quest)
Specifically, this company focuses on 'fulfilment'. With the game you have created, you can send your finished item to Games Quest and they would ship and send your products on your behalf.
Games Quest handles the sending and logistics. On their blurb and about, they also mention that they cover the distribution to end-users and 'potentially' smaller retailers and bricks and mortar stores. Getting in touch with them is possibly the best option to find out more.

Fulfilment By Amazon – Amazon FBA
Amazon FBA not only ships around the UK but worldwide. Amazon FBA doesn't focus on business to business distribution and wholesale AFBA is for product b2c (business to consumer) 'fulfilment'. Eg a customer buys a product and Amazon fulfil the request by sending it to them.
It should be noted that DBG (Dragon Bone Games | www.dragonbonegames.co.uk) is not affiliated with any of the companies mentioned in this list. All the companies mentioned and noted in this post are taken at face value based on what is written on their websites and meeting them face to face.
This post shows, you, the reader, what board game distributors are in the UK. As with any business, decision make sure to select the correct distributors that suit you!


The conclusive answer to what are the UK game distributors
This is a quick list of UK board game distributors for your reference.
List of UK board game distributors :-
Asmodee UK
Esdevium Games (now Asmodee)
Coiled Spring Games
Spiral Galaxy Games
NDA toys
Kingsley Distribution
Bliss Distribution
For some final notes to consider.
If you are looking for a large distribution company for your game Asmodee UK are one of the largest, if not the largest board game distributor in the UK.
If your game is more focused around science fiction and fantasy with miniatures then Kingsley Distribution might be a good path to take for your type of game and genre. Kingsley Distribution is more likely to be associated with smaller retail stores for fantasy games and miniatures. They focus on wargaming.
Distribution & UK fulfilment companies that are in the UK
These 2 companies appear to offer more business to consumer fulfilment. Although the Game Quest site also mentions that it will 'distribute'. – wholesale.
– Game Quest (ship Quest)
– Amazon FBA
All the best in your venture for finding a distribution company.
In the meantime, whilst looking for a distribution company – You may also find some of the following links for board games and board game creation interesting.
Other interesting game focused articles
UK board game distribution list. Dragon Bone Games