If you are looking for some fun board games for your houseshare buddies or you have arranged a board game night and feel stuck for what to suggest! Well, do not fear!
This list of fun board games for your share will hopefully give you some cracking ideas to run with if nothing else.
And if you have any moaners… well let them moan. Or ask them if they are so clever then to come up with some party game ideas themselves.
Or perhaps you could resolve the dispute over a game of Throw Throw Burrito or Beer Pong?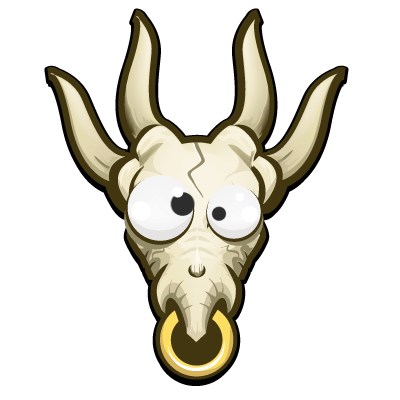 Either way, you will have to silence the moaners. All flatshares have them, I had them. My friends had them I bet even in Tudor Britain – the old timber houses had them too! (wonder what they played?)

We had them….
Anyway!
A short list of games to play in a houseshare
Let's crack on with it. You may need to act fast. For all I know you might have left this to the last minute and you need to order some games by tonight… or at least, get some ideas under your belt PDQ!
Here is a speedy list of some games to play with your flatmates! (In no particular order) :
Throw Throw Burrito
Mouth Trap
Mouth Trap Adult Edition
Mouth Trap Drinking Edition
Cards Against Humanity
Twerk Pong
Beer Pong
Shot Pong
Well that's it!
Enough said!
My work here is done but if you would like to know a bit more about these games and whether they are right for you or your flatmates then read on.
Or party on I should say!

Throw Throw Burrito
This is game is fun – mad fun!

Who is this game fun for exactly and why should you and your housemates care?
This game is for those who are full of energy and would love to throw soft squishy objects at their mates. If you can picture that person, be it you, a friend or a relative, that is who this game was created for.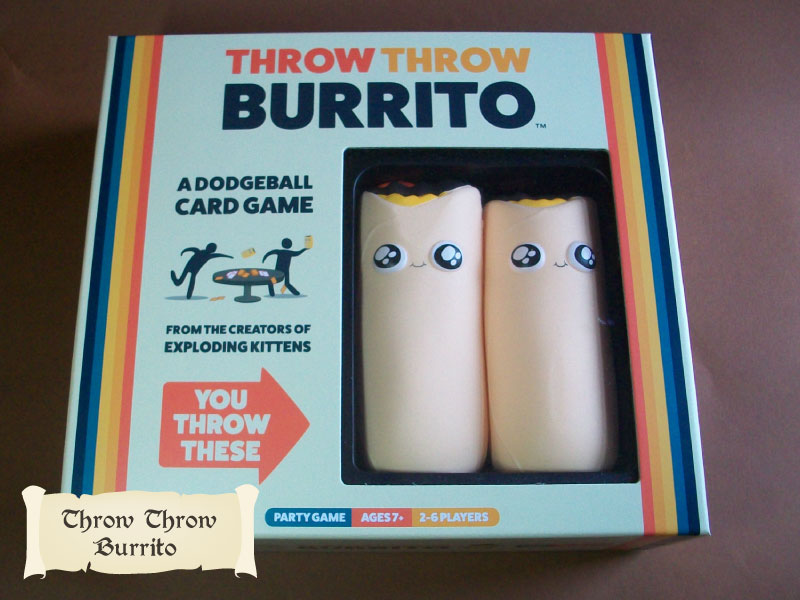 You know who you are… you vandal!
This game could arguably have been created for those of boisterous or silly temperament that enjoy a bit of squishy throwing bedlam!
But for those that absolutely love this party game, there will be a few that really will not like this game.
It could be a bit too lively, loud, and mildly violent in the wrong burrito throwing hands. So bare in mind. I'm saying it can get out of hand with some people or I least could see it getting out of hand if mixed with drink.
With all that said, I must say that I am in very much in the camp that this game is just brilliant fun to play.
If in your flatshare you can picture your friends or fellow roommates enjoying throwing squishy burritos at each other whilst mixing the game with cards… then this could be a winner!
You can read more on Throw Throw Burrito's review to find out about the gameplay and what you get in the box. The post goes into all of the details as to why this game is a good choice for a party.
If you couldn't be bothered to read the paragraph about this game here are some quick bullet points about the Throw Throw Burrito
This game is great for a fun games night in houseshare
Perfect for student halls.( I would have loved it as a student)
A game that would appeal to a large circle of people.
Good for people that like cards and throwing things!
One of the best for board games for adults
* not ideal for cramped or small spaces.

Mouth Trap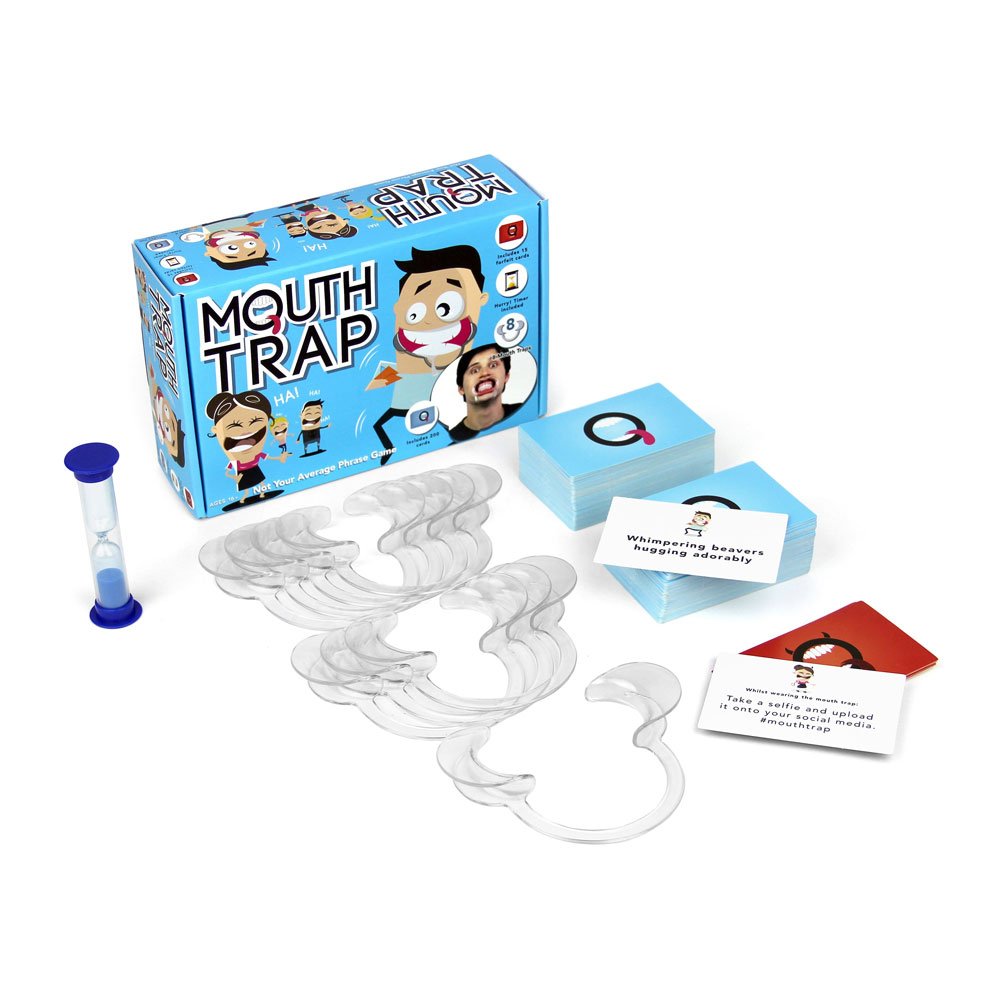 How could I not include this game in when suggesting games for houseshare!
To start with I have gone with the Mouth trap family edition and I can say that this will be great fun for many people, although those that are a bit squeamish about teeth or looking daft – may not like this raucous game.
I will go onto the adult-only version of the game shortly, do not fear if you are a flat of 20 somethings!
So…
With Mouth Trap you have to insert a dental guard into your mouth whilst trying read a series of phrases to your whole team or individual players before the timer runs out.
The whole time you are doing this, as the card reader – you will look quite deranged!
As your teeth chatter together and mutter incomprehensible nonsense to people around your table in the name of fun the mouth guard will be prizing your lips over your teeth.
This may make the game sound like something out of a horror film, but it isn't.
This game was great fun to play with colleagues and friends and it will surely go down well in a fun house share too!
The game is easy to pick up and play and comes with few expansions if the basic edition wasn't enough.
I feel I should mention here though, that the game may not appeal to everybody. A few may find having to bear the shiny whites to everybody a bit too much!
You can read more on the Mouth trap product listing here

Other Mouth Trap games for houseshare
Mouth Trap Adult Editions
Of the same ilk as the regular family edition of Mouth Trap, only these editions come with a few added twists of their own.
Not Suitable for Nuns
This is a good party game for adults. Not children, and certainly not for nuns or priests.
Apart from having a different appearance, the 'not suitable for nuns' edition comes with ruder phrase guards, meaner forfeits, and larger clear plastic mouth guards aimed towards more mature players.
Mouth Trap: Drinking Edition
Like the other editions of Mouth Trap only that this one has drinking thrown into the mix.
Some cards are marked with a shot or drinking glass on the bottom.
If you fail that card or get stuck, at the end of the turn you may have to drink up as instructed on the card.
* Please drink responsibly – if that is possible with this game which I'm sure it is! Chin Chin!

Cards Against Humanity
You've not heard of Cards Against Humanity?
Not a game for the grandparents, nor the easily offended.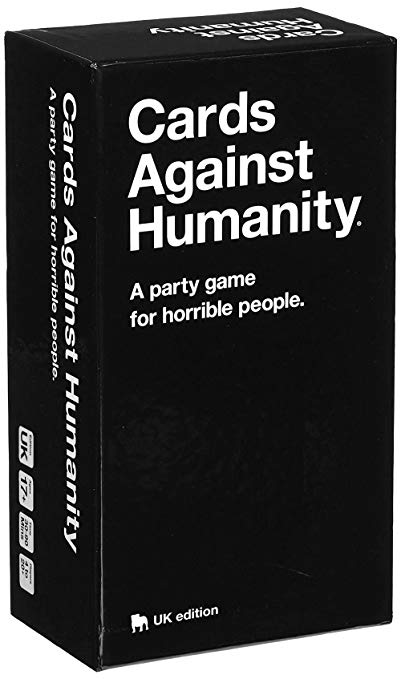 BUT!
This game is great for those that love to cause offence!
And it should be noted here, this is very much an adult party game!
This game is cracking fun with friends.
The main aim of the game is to create a complete sentence with one of your phrase cards! Generally speaking, the player that plays the most horrific, funny or downright awful card to make a complete sentence wins.
This game does have some longevity but once you have played through the same phrase card a couple of times, it starts to lose it shock factor.
If you are a super fan of Cards Against Humanity though, you can always extend the gameplay by simply buying expansion packs.
And, If you enjoy card games. These alternative card games for family and friends may be worth a look.

Other party games for houseshare!
Still not enough games for you? Hmm, well perhaps some more of these ideas may help you to find the game that is just right for you.
These are other active games for flatshare that are great for adults, Hen parties, and Stag dos!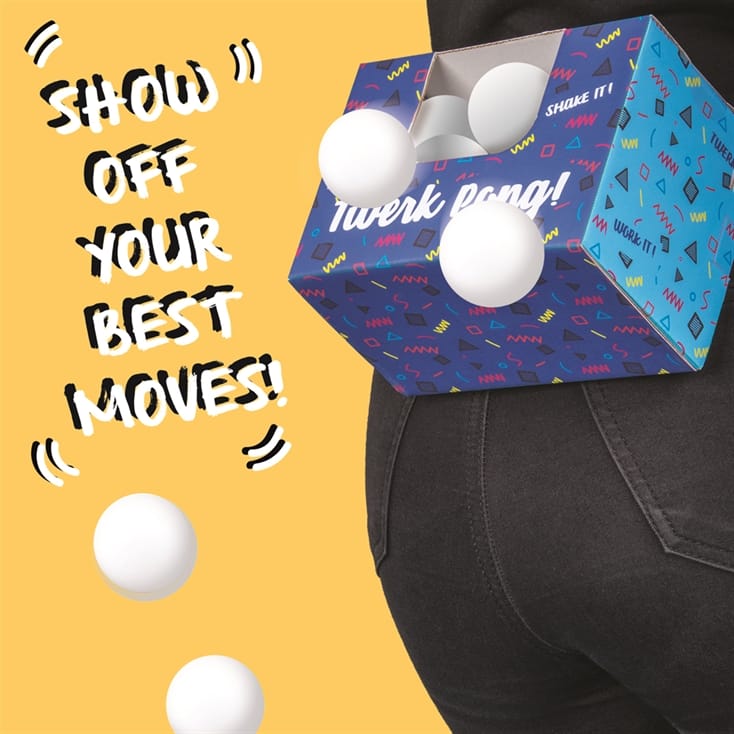 Twerk Pong
This game is enormous hip shaking fun and will that will go down a treat with the flatmates!
Who wouldn't want to see you wriggling about and twerking in front of your house share and your partner's mum?
If you would like to see how this game actually plays, you can watch this video.
Twerk Pong comes in various guises ranging from Twerk Pong to Boogie Pong. Basically, you, the player, the buffoon with the game box full of ping pong balls strapped to their waist! Needs to gyrate all of the white balls out of the box to win!

It's a jiggle race.
I opted for vigorous thrusting techniques myself! It sent ping pong balls bouncing around everywhere to the entertainment of the office.
This game is an absolute blast, whether you are in a flatshare or in student halls or are just looking for a non 'cardy game' to play.
Beer Pong
Another raucous one if cards isn't your thing.
Beer Pong!
Now, if you are uncertain what Beer Pong really is. It is a game where you need to throw a small ball (such as a ping pong ball) into a cup with beer in it.
If you manage to get a point eg – get the ball into your opponent's cup, they drink.
That's it.
So why is this game for flatshare?
Beer Pong, whenever I have played it has never been dull game to play with friends. On all occasions, it has certainly livened up even a tepid party.
So, are there any bad points about Beer Pong?
There are not many bad points that I can really think of, but it comes down to who you are playing with and where.
Beer Pong is a messy game – and it can get very messy!
You may find yourself losing ping pong balls under sofas, spilling beer all over the table, and the floor and you may want to wash the ball if it keeps going behind furninture! And you may find yourself feeling a touch tipsy if you are against a good player.
There are various different types of Beer Pong games from Shot Pong to Prosecco pong if the standard beer version isn't quite what you are looking for.
The main difference between the games is the size and shape of the glasses.
Beer Pong is simple to understand, great fun to play, and a lively one for adults. That is why it has made it onto list of games to play in a flat share or house share!

Fun board games for houseshare
I hope this list of ideas for fun games you play with your house buddies has been helpful.
Many of the best games that have been tried and tested by friends and former flatmates have been: Throw Throw Burrito, Beer Pong and Twerk pong. Based on opinion of course.
Some other ideas that are not mentioned on this list are: Articulate, Rapidough, Scrawl, and Werewolf. These are some additional games which are also quite fun to play.
Thank you for reading. Below are some other helpful links :
Other relevant suggestions for with your house share!
External Links
Thank you for reading fun board games for houseshare! have a look at products!