Description
Want to Buy Throw Throw Burrito?
Then this could be the game for you and your family!… why Buy Throw Throw Burrito?
Throw Throw Burrito can be played with various types of people – mostly family and friends that don't mind having squishy projectiles thrown in their general direction, or those of a raucous disposition!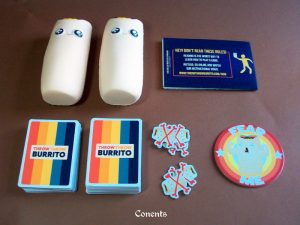 What is Throw Throw Burrito
Mix dodge ball and cards… That is Throw Throw Burrito. Now imagine playing it with a relative or a friend. Imagine their expressions as you have full permission to cob a small squishy toy at them and not have to apologise for it! I know, it is not often you get permission to throw a soft toy at somebody and everybody enjoys it, but in this ridiculous game you are more than allowed – it's the name of the game.
And yes, it has been played with friends and they all loved it.
Should you decide to buy Throw Throw Burrito from this supplier a small commission may be paid to DBG at no additional cost to you. Failing that you can also read more on Throw Throw Burrito here to see if this is the game for you.
Why buy Throw Throw Burrito
– You get to throw soft squishy objects at your friends and family – enough said!
– It is also a card game
– It is fast-paced, fun a great for a wide range of audiences
– It is fairly easy to play.
The game can either be purchased on this website here (WAYLAND GAMES)
Or purchase on eBay.