Description
Pass the Pigs

If you have never heard of the classic game Pass The Pigs then you are in for a huge treat! This game is great for both children and adults alike – a game that is likely to have everyone squealing with joy. (sorry, couldn't resist)

What is the aim of the game?
The aim of the game is simple, be the first to roll your little piggies to a score 100 and end the games. It's a piggy race to 100 in other words.
In Pass The Pigs you take it in turns to throw down your rubbery little characters in the hopes of scoring points and winning the game. But one false roll that could cause naughty piggy behaviour, and lose points or forfeit your turn.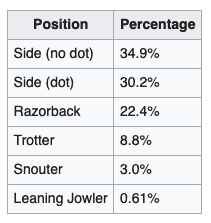 Details can be found on Wikipedia
Pass The Pigs is an ultra-fun game themed around dice. The game is easy to pick play and can be very addictive. It is a game that can suit most ages and you don't have to be a boffin to play – you just need to be a good chancer and play with a sense of humour.
So if you would like to buy a game that may get a few squeals this is one to consider.
If you wish to buy the game you can find it on eBay or various other outlets. It should be noted that Dragon Bone Games may receive a commission based on your sale which will not be billed to you should you purchase the game through eBay.
Or you may want to look at these games
– Mouth Trap |Family Edition
– Or Cheap Card games