This is the Dwarf from the original HeroQuest board game. It was a pleasure to paint him, the beard in particular was great fun.

If you are unfamiliar with the original HeroQuest, this miniature came as one of the 4 main hero characters in the game.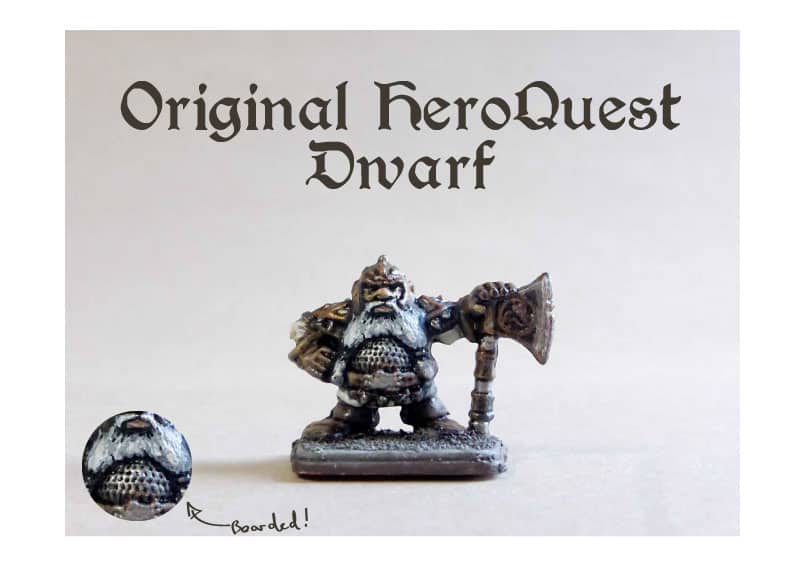 If you are interested in knowing what the other miniatures or parts were his game post may be helpful. list of Original HeroQuest miniatures.
About painting the HeroQuest Dwarf
What is there to say! After browsing eBay looking for parts, this little guy came up and I had to bid – there and then!

Needless to say, but I won the bid. I sat poised at the end of the bed waiting for this classic piece of board gaming history to turn up at my door!

It should be mentioned that I didn't sit for the whole duration of the delivery at the end of the bed… I did not forgo food, water and all social life in honour of this miniature. I guess that makes me less worthy!

Anyway.

The day when this model arrived at my address. This is the legendary mini that gave the *Warhammer magazine its namesake and it was in my possession – White Dwarf.

And he was screaming for a lick of paint.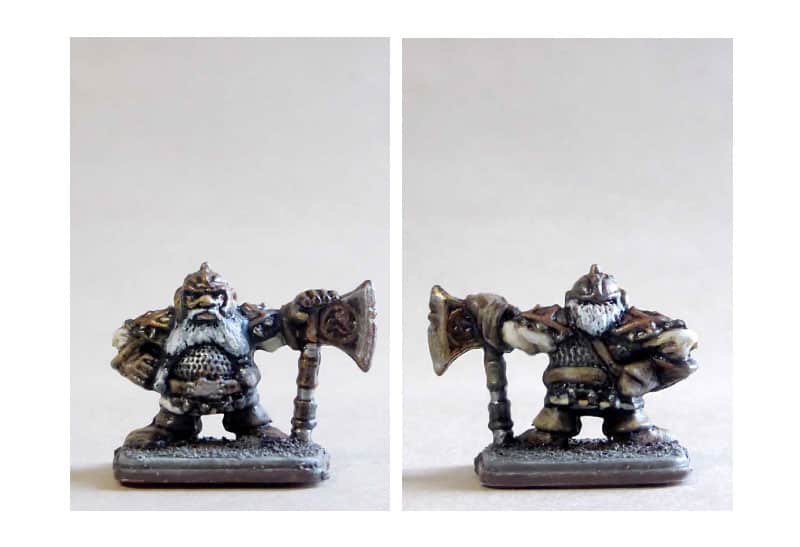 A clean miniature!
The miniature turned up unpainted, unprimed and apparently… never painted. If it had, the paint was well stripped from this plastic model, there were signs of it at all.

I was lucky, this miniature was completely untainted by paint… ( until I got my hands on him ). I primed him, let it dry, and then didn't manage to get around to painting it for months. He sat in my storage for a while.

But I did manage to get round to it.
Buying Old (Classic ) HeroQuest Miniatures from eBay
Now, if you do decide to buy some miniatures from eBay that are in dire need of paint removal. This post for removing paint from plastic miniatures may be helpful to you.

The old HeroQuest miniatures were cast in plastic. Make sure to use the correct solutions! Don't dissolve your model into a blob or use anything too corrosive.
Buying the miniature
Or if you want to look for the original 1991 HeroQuest dwarf without perhaps needing to remove paint. You can do so here!



Or Check this eBay shop to see if they have any new listings

* Should you decide to make a purchase on eBay a commission may be paid to Dragon Bone Games. A big thank you for your support.
I Primed the HeroQuest Dwarf
I used a grey undercoat primer on the Dwarf to act as a base coat. Matt grey as it acts as a neutral tone and helps the additional layers to stick.

White would be my second preference, black my last.

When undercoating the miniature. I sprayed the mini-outside, on some old newspaper in a plastic tupperware box.

I allowed the model to dry, air and then put it to one side for a while…
Then, finally got around to painting the little Hero!
Eventually, I managed to paint the miniature using a range of brands and paints from Army Painter paints, inks, and washes to some Game Colour. It was a fun process!

It should be mentioned that I'm not much of a miniature painter. My main thing is Illustration and 2D painting. I don't have the eye-sight or steady hand to paint miniatures but nonetheless.

It was great fun to do and allowed me to lose myself in something aside from work.
Get your paints out!
What I really wanted to share here is a piece of board game nostalgia. To me, this Classic HeroQuest Dwarf represents this. I can still recall my eldest brother coming home with the boxed game of HeroQuest full of all these little monsters and a great big fold outboard!

After my trip down memory lane. I felt compelled to hunt down some old HeroQuest miniatures and give them a lick of paint. And here were are!

If you are a Space Marine fan, this post shares a bit on painting Space Marines. Or if it is the general topic of art and board games, you should pay this page a visit on Rupert Greyling.

Board games or miniature painting are not a waste of time! Embrace and enjoy your hobby even if it is from memory lane.
Other posts around the original HeroQuest Dwarf
– Where to get HeroQuest ( classic ) replacement parts
– Content list around classic HeroQuest
– Painting Space Marines
– Stripping paint from plastic miniatures
– What is the value of the original HeroQuest board game?
Product Listings
– HeroQuest Chaos Warrior
– HeroQuest Game ( original )
External Links | Finding The HeroQuest Dwarf
– Search eBay for the HeroQuest Dwarf
Original HeroQuest Dwarf – Painted. DBG
Notes:-
* So much so the 'White Dwarf' magazine was pretty much named after this miniature – apparently!