If you are beating your head against the bulkhead trying to find where you can buy an old copy of Space Hulk, then this post may help you in your mission.
Space Hulk was created by the late legend Richard Halliwell, a member of the Games Workshop team in the 1980's. It was through their vision ( Richard Halliwell's ) that players could become Space Marine Terminators and blast their way through hordes of pure strain Generstealers.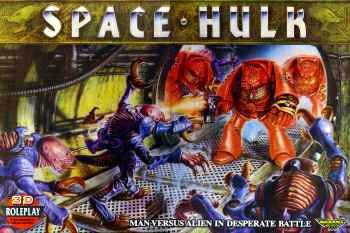 It was a cool looking game. Sadly, one that I'm am no longer in possession of and I am now kicking myself for selling the miniatures and losing half-game to the depths of the attic.

I used to own the second edition of the board game! – if you were curious!
So.
Where can I get the Space Hulk board game or where can you buy Space Hulk the board game.
Answers and ideas are written below.

Where can I get space hulk board games? Suggested ideas
For a short and snappy answer on where you can buy Space Hulk, places that sell second hand or preowned items will offer the strongest chances of selling older board games. There have been various editions of Space Hulk over the years with many collectors.
To get your hands on a copy of Space hulk you should look on platforms such as eBay, Board Game Geek, and Facebook.
And let us not underestimate the power of carboots. You might be lucky. That is the short and sweet answer of where you may find a copy.
eBay is a good place to look for when you buy games such as Space Hulk
I have mentioned it before. But, you can't deny that eBay is a good place to look when you want to buy old games and miniatures!
You can buy old Warhammer bits too. Basically, eBay is a platform that will allow you to buy lots of out of print games, bits, spares and repairs. I would regard it as a treasure trove for things to do with miniatures board games.
What condition the board game will be … well that is a different matter altogether!
You can search eBay here for the chances of finding a Space Hulk board game. But remember to pay attention to the listing details such as the condition of the game, or whether it is for spares and repairs, English version, etc.

Be certain to buy from a reputable seller too.
*Should you decide to buy any items from eBay a commission may be paid to Dragon Bone Games. A big thank you for your support.
You may also be curious to know a about these classics:
Board Game Geek!
Board Game Geek has an active and thriving community of board game enthusiasts. You may be able to pick up a copy of Space Hulk in the Board Game Geek community.
Facebook
Facebook has an active board game and miniature community too. You may be able to buy a second-hand copy of the board game on the FB marketplace.
Gumtree
It is not often that you will come across Warhammer or any decent board games on Gumtree but it still might be worth a look if you are wanting to sell or buy any board games. That also includes Warhammer.
Amazon
Did you know you can buy Space Hulk on Amazon? Occasionally you will see some rare listings on there selling the game! Due to the nature of Space Hulk being rare and very desirable. Some listings of Space Hulk can be pricey, but it still might be worth a look!
A diamond in the rough – Car boot sales and people clearing the attics
If you are very, very lucky! And if you spend many-many hours trawling car boot and jumble sales – you might ( but most likely won't!) find a copy sitting among the rough. Honestly, if you are tenacious enough to find a collectable board game at a car boot I take my cap off to you!
People looking to clear space in attics and spare rooms might be passing off a copy of Space Hulk. You never know!
Other places where you may be able to buy It
Bonus suggestion! Here are additional places where you may be able to come across the awesome S.H.
Bonus suggestions and ideas:-
Charity shops
Second hand/junk shops
Collectors shops and stores
Jumble sales
Asking parents of ex-Warhammer collectors
Speaking to ex-board game collectors
Keep your eyes peeled for any stock clearance sales or board game shops and closing down sales.
FreeCycle
These suggestions should not be overlooked. Space Hulk is a desirable game that collectors would go the extra mile to find.
I originally bought a stock clearance version of Space Hulk ( 2nd Edition ) from a store in Cornwall that sells end of line and stock clearance products.
Where you (probably) won't find Space Hulk
Space Hulk can be found on websites such as eBay or Board Game Geek or even at car boot sales. But there are places that you are not likely to find past editions of the board game – at least not here in the UK.
So, here are the places where you (probably) won't find Space Hulk:
Games Workshop
Games Workshop is not likely to sell second hand or old editions of their games. I do not wish to presume too much and this is purely opinion and speculation, but I doubt that GW will resell their old stock of Space Hulk.

Hypothetically speaking, they may release future editions or limited editions of the game.

But.


You are not likely to see the classic 1st edition. Games Workshop always tends to move forward and if they do consider selling a 'classic', typically they will reinvent the product or tweak it.
They may release a special edition version of the game but they are not likely to start selling the exact same edition of the 2nd Space Hulk for example.
Places that sell pre-owned or older stock pre-owned items are more likely to sell Space Hulk.
Please also note, that point about GW selling Space Hulk as a new edition is conjecture. There is nothing to say they will or won't release new versions of the game in the future.
No secret information has been leaked. (But, apparently, there has been rumblings of a New version coming out ) .

Kickstarter
Unless GW starts looking into crowdfunding for projects ( which would be cool ) you won't find old editions of Space Hulk on Kickstarter or any other crowdfunding platforms for that matter. If you see a listing for 'Space Hulk' in the future make sure to give the listing a good read to see if it is genuine. ( my eyes would pop out! )

Where is the 'best' place to buy the S.H board game?
In my humblest of opinions, eBay is one of the best places to find complete or incomplete parts for board games.
I have seen various listings for different Space Hulk editions listed on eBay plus listing for parts such as the Genestealers and Terminators.
Amazon occasionally has a listing for the game too. But I would choose eBay first.
Top places:
eBay, by a long mile
Amazon
Board Game Geek

Where can I get Space hulk parts?
Along with the complete version of the board game, eBay Is a great place to find spare parts. You can find job lots of Warhammer on there too. Look for 'Space Hulk' or Terminators, Genestealers or whatever it is that you need to replace in your Space Hulk board game.
There were many editions of Space Hulk! Where can I get these?
Space Hulk was originally created in 1989. There have been 4 editions of Space Hulk released over the years ( to 2021 ) If you are looking for any particular edition on eBay it would still be one of your best chances of finding the board game!

Where can I find the limited edition of Space Hulk 2014?
You can find a slick copy of the game on eBay and Amazon. But brace yourself. A complete version can be pricier than you would expect.
You can see the listing here on eBay.
*Should you decide to buy any items from eBay a commission may be paid to Dragon Bone Games. A big thank you for your support.
So where can I find the game? The takeaway!
The takeaway answer on how to get your hands on this classic is by keeping your eyes peeled and searching websites such as eBay. Keep your eyes peeled on any ex-board game collectors or places that sell pre-loved items such as board games.
Speak to people on Board Game Geek also.
Trawl Ebay.
Look on Amazon.
And if these fail, search in person at places and locations that sell pre-owned items.
Suggestions you may find helpful
Product Affilate Listings
*Should you decide to buy any items from eBay a commission may be paid to Dragon Bone Games. A big thank you for your support.

The original artwork of the box Cover is copyrighted to Games Workshop. The Source image was found on Wikipedia to reference the topic.